CO2 MIG Welding Wire
CO2 MIG Welding Wire Manufacturer in India
Diameter
0.80 mm, 1.00 mm, 1.20 mm, 1.60 mm
Grades
AWS – 5.18 ER 70S6
IS-6419-S4
DIN SG2
AWS ER-90SG and Other Grades Available
Packaging
12.50kg, 15 kg and Drum Pack 100kg, 150kg, 250kg (Jumbo Pack)
C
Mn
Si
S
P
Cu
0.06

–

0.15
1.40

–

1.85
0.80

–

1.15
0.035 Max
0.025 Max
0.50 Max
YS
(N/mm2)
UTS
(N/mm2)
Elongation
(GL = 4D)
Charpy

–

V
(CVN) Impact Value at
400.00 (Min)
480 (Min)
22.0% (Min)
(L=4d)(Min)
−29º C > 27 J
Diameter in mm
0.80
1.00
1.20
1.60
Current (in Amp)
50

–

180
80

–

220
120

–

280
200

–

400
Automobile Silencers
Petrol/Diesel/Gas Tanks, Scooter
Cycle spare parts & accessories
Automobile Body
LPG Gas Cylinders
Boilers
Poles & Steel Towers
Steel furniture
Scaffoldings
Gratings & all other welding in steel fabrication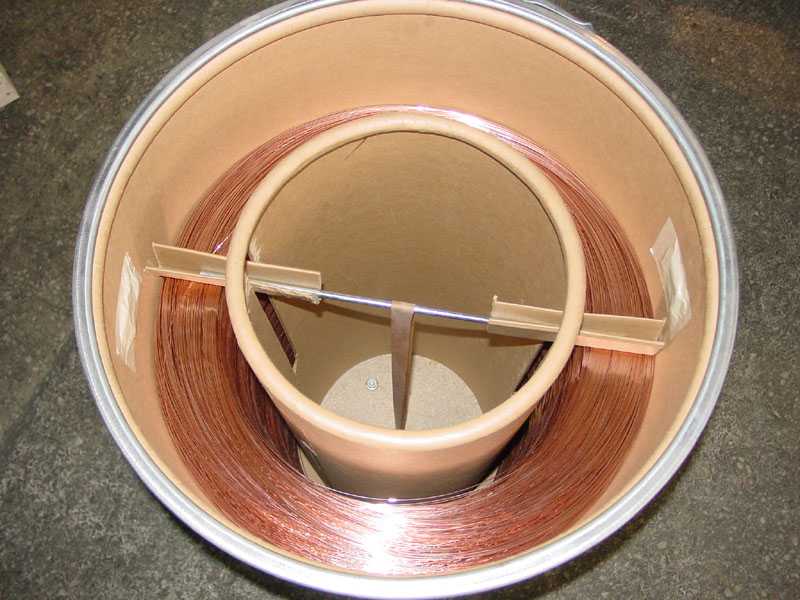 CO2 /MIG Welding Wire
Product description
CO2 MIG WIRE is Copper coated solid wire for Gas Metal Arc Welding (GMAW).
Our wire is suitable for welding of sheet metal, carbon steels, and low alloy steels including structural steel with a tensile strength up to 540 N/mm2.
Advantages
Our MIG wires are high performing with smooth flow, stable arc, and minimum spatter.
We provide thin and uniform copper coating that ensures good conductivity which ensures high speed feeding and optimum performance.
Our rigorous inspection ensures that the wire gives excellent radiographic quality welds.
We can supply wires in drum packaging, which will help our customers make the most of their time and save cost.
Our large production capacity, hi-tech machines, and testing facilities ensure lowest lead time in procuring wires.