Top 10 Reasons to Use Fencing Wire on Your Property
Posted on August 08, 2021
It's hard to think of a good reason not to use galvanized fencing wire on your property. Whether you want to keep out animals or people, this article has 10 reasons why it is important for your personal safety and the safety of those around you.
Security
Security is a very important consideration when you are looking at ways to improve your property's value and appearance. In fact, fencing wire stands up to all kinds of weather conditions and keeps out unwanted guests like pets, animals, vandals and more. Be sure that an intruder won't be able to make his way through the fence by installing high-quality fence wire.
Fencing wire gives you peace of mind knowing that most people won't even think of trying to go over or under the fence line! It offers terrific security while improving both your home or business' appearance as well. For added safety along the perimeter of your property, look into installing motion sensors on your fence line in order to catch intruders before they can inflict any damage.
Ease of Installation
Installing galvanized fencing wire is relatively easy to do on your own. It takes minimal tools, and can quickly be set up by anyone who knows how to hammer a fence post into the ground. With very little effort involved, you will soon be able to reap the rewards of having an effective security measure in place.
Fence Wire Keeps Out Unwanted Guests
If you live in an urban area or share a property line with a neighbor, you may find yourself dealing with stray dogs and cats that have found their way onto your property looking for food and shelter. Fortunately, installing a layer of fencing wire along your property line can help keep these animals out so they won't eat up all your garden plants or litter within them!
Cost Effective & Affordable
GI Fencing wire lasts for years and is one of the most affordable forms of security you can add to your property. Fencing wire lasts for a long time and the more it's used, the better it holds up. A lot of times people try to deter burglars with an alarm system or other security devices but that can come at a hefty price tag.
Versatility & Customize for Different Applications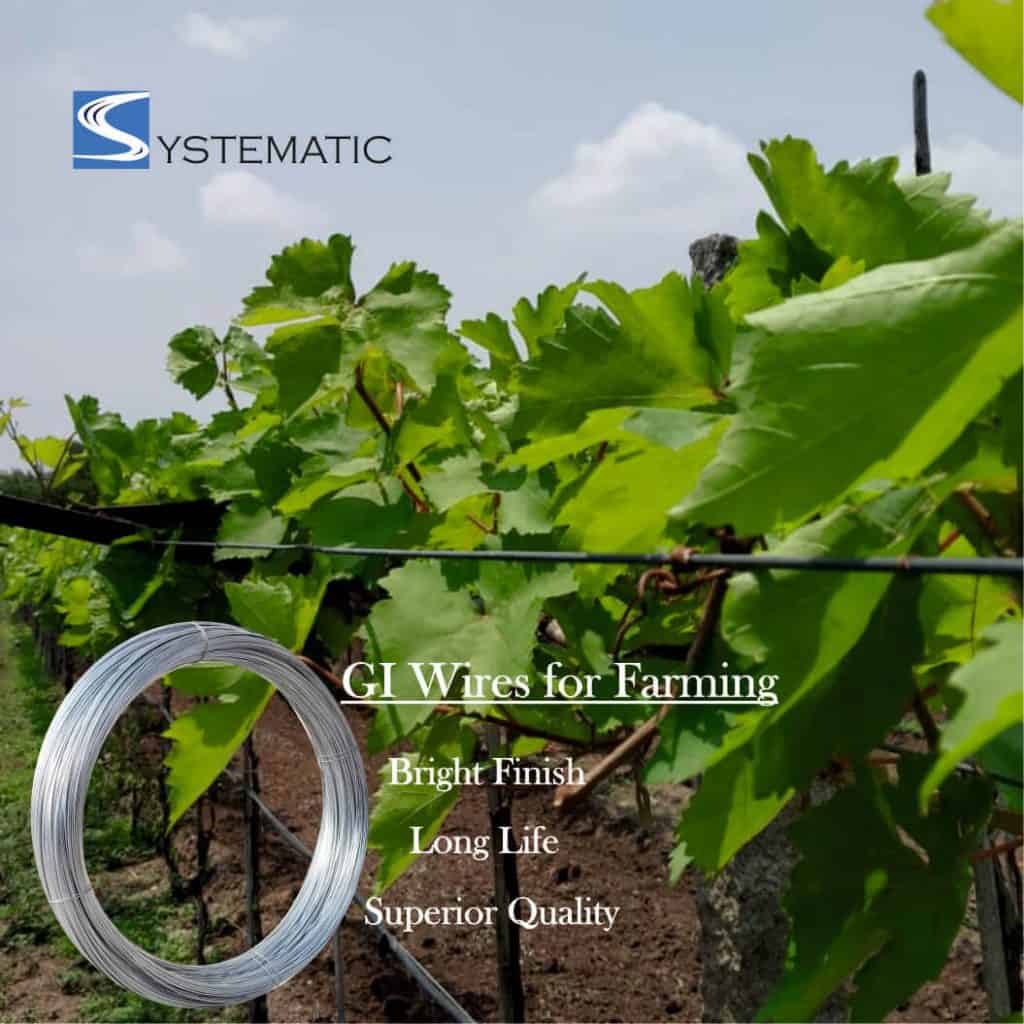 Fencing wires or jali wires can be customized. You aren't limited to using this material in only one way as there are many ways that you can use wire fencing for your own purposes. For instance, fence wires are often used to extend a border around property without having to put up more complex systems like metal fences at wood pickets. These wires can also be molded into shapes such as circles, squares which ensure that certain areas remain off-limits to pets and trespassers alike.
Durable
If you want a fence that lasts through years of outdoor exposure, then it's important that your fence is made with quality materials and durable construction techniques.
Our wiring not only meets all industry standards by being galvanized, but it is also woven into sturdy strips before they are welded together in order to ensure each piece can withstand tons of pressure without bending or fracturing under the weight! If you're looking for long-lasting value, we have what you need: our fencing wire will stand up to even harsh weather conditions such as 100 mph winds and intense sunlight.
Our gi fencing wire is also pretty scratch resistant so if a burglar does walk across your property you won't have to worry about deep gouges or holes in your fencing wire.
Maintenance Free
Maintenance free doesn't necessarily mean that there's zero upkeep; it means that you don't have to worry about the fence rusting or chipping over time. That's what makes our fencing wire one of the best options for your home and property, because it looks good right out of the box without any painting! You won't need a primer beforehand, because galvanizing takes care of rust protection before your wire is woven into strips.
Eco-Friendly and Sustainable
If you need fencing that won't harm the environment then fence wires are an attractive option as they can often be reused afterwards if they aren't damaged beyond repair while also making more efficient use of natural resources and reducing dependence on disposable products.
Many cities and countries have instituted laws against cutting down live trees for wood fences because it helps reduce pollution and promotes good environmental practices as well as creating an attractive addition to any property without being dangerous or unsightly. A metal fence using traditional steel wires can be used to promote strong environmental practices while still looking great in virtually any location .
Also by using fencing wire, you won't need to paint fences or fencing wire so you can reduce your impact on the environment by not using harmful chemicals that oil-based paint requires.
Fencing Wire Helps Protect Pets & Animals
Another reason to use agriculture fencing wire is that it helps protect animals from getting loose and running off into traffic where they could get hurt or killed by oncoming vehicles. Fence lines made with this type of material are an effective way to keep your pets safe while also making it harder for predators like coyotes or mountain lions to get to your animals.
While keeping your animals in is important, it's equally as important to keep them out of places they shouldn't be because these locations may contain hazardous materials that could harm them, particularly if you're raising any kind of farm animal and need to keep them away from poisonous chemicals used on crops or plants. Fence wires can help protect your animals from the dangers of outside contaminants.
Trying to keep cows, sheeps and other pests from ruining your plants, crops or gardens can be challenging. Yet with a layer of fencing wire on top of the crop you're trying to protect, you can keep those animals out.
Maintains a Professional Appearance
The most important reason to use fencing wire is that it can add value and retain resale value. An important consideration for any commercial or business property owner, keeping up with maintenance and appearances is important for tenant retention.
Tenants want facilities that look nice on the outside so they can enjoy a professional image in front of clients and customers alike. Fencing wire does not require painting or other maintenance which means your property will have just one less thing to worry about when it comes time to sell or lease your space.
About Us : Quality Products & Personalized Service
Our products feature durable, quality materials that guarantee your investment in fencing wire is protected and you'll receive the personalized service you deserve.You'll also enjoy competitive pricing because we are ourselves leading gi wire manufacturer in India so we pass the savings on to you!
Conclusion
Since we've gone over 10 reasons to use galvanized iron fencing wire on your property, it's clear that this is a smart investment. For more information about the benefits of galvanized wire fencing and how you can get started today, contact us or buy Galvanized Wire Fencing Wire from our website for prompt delivery. We want to help make sure you have all the resources necessary for success! Let us know if you need any additional assistance with your fence installation project before ordering online or feel free to give us a call at +918080933666